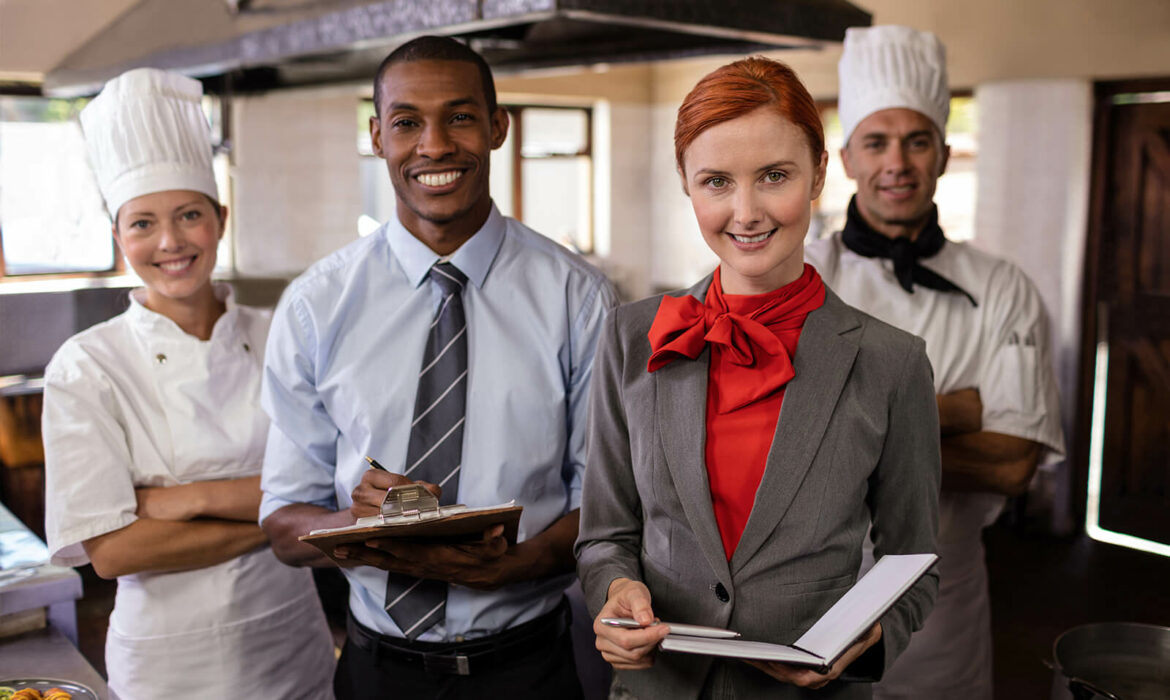 What exactly is the distinction between a Chef and a Kitchen Manager? A chef is more concerned with food, with the most responsibility being the design and implementation of the menu. A kitchen manager typically has no control over the menu and is instead in charge of operations using the existing system and tools. While this is the general answer, the reality is that it varies depending on how the owner decides to set up the roles. It is typically determined by the size and type of restaurant. Traditionally, there is a Chef position hierarchy in operation, but this is not a rule.
The Kitchen Manager's Role
The role of a Kitchen Manager is to oversee all aspects of kitchen operations. This includes both daily operations and administrative tasks. A Kitchen Manager (often abbreviated as "KM") works in establishments that serve simple food and is responsible for running a single kitchen. Kitchen Managers are more commonly found in chain restaurants with a set menu and well-defined systems and tools.

A Kitchen Manager is uncommon in a high-end or fine-dining establishment because a chef is required to manage the menu. The Kitchen Manager's task is to replicate a successful system rather than reinvent the wheel. Kitchen Managers are more concerned with the business side of the restaurant than with menu management. Having said that, the Kitchen Manager frequently has the flexibility to run daily specials of their choosing based on inventory and seasonality needs. The ability to run specials is an important tool in the Kitchen Manager's toolbox for controlling food costs.

Administrative responsibilities vary based on the restaurant. Some Kitchen Managers are in charge of staff management, which entails hiring and firing employees as needed.

Kitchen Managers are usually responsible for managing the ordering, process and inventory. They control food costs and the back-of-house scheduling to control labour costs because cost controls are such an important part of the job. They may also manage equipment repairs and perform preventative maintenance to keep R&M costs under control.

Depending on the restaurant, Kitchen Managers may also be in charge of other tasks. The job includes ordering supplies, basic accounting, staff training and development, food safety, system management, and kitchen cleanliness.

Larger restaurants may necessitate the Kitchen Manager having one or more Assistant Kitchen Managers (often abbreviated to "AKM"). For employees with no prior management experience, the Assistant Kitchen Manager role is frequently used as a stepping stone into management. In the traditional Chef hierarchy, an Assistant Kitchen Manager would be comparable to a Sous Chef.

There is no specific education required to work as a Kitchen Manager. Most Kitchen Managers did not attend culinary school but instead studied hospitality management or general business administration.

A Kitchen Manager with no formal education is not uncommon. Kitchen Managers are frequently individuals who began as cooks and rose through the ranks.

The Chef's Role
There are many different types of Chefs, and the role of a Chef can mean many different things. Before delving into how a Chef differs from a Kitchen Manager, it is necessary to understand the various chef types.

The Executive Chef is at the pinnacle of the Chef food chain. Executive Chefs, also known as Group Chefs, usually oversee multiple locations and only do experimental cooking on the side. Instead, they are in charge of developing menus and sourcing ingredients for the chain of restaurants. This is a management position for a Chef with experience in both food science and leadership.

Head Chef: The Head Chef, also known as a "Chef de Cuisine" in French kitchens, is the Chef in charge of a specific kitchen. In addition to menu design and management, they serve as the kitchen manager and perform the majority of the duties of a Kitchen Manager. Head Chefs are usually supported by other Chefs who run the day-to-day operations (in case the Kitchen is small enough not to need any support, the head chef does everything).
Sous Chef: A sous chef is similar to a ship's first mate. They serve as the Head Chef's deputy. In fact, Sous Chef literally translates as "under chef." There are a lot of common responsibilities between the Sous Chef and the Head Chef, but the Sous Chef is usually more hands-on in the Kitchen. The Sous Chef takes over when the Head Chef is not present. A Sous Chef may not be available in smaller kitchens. I've seen some variations on the title of Sous Chef used sparingly, most notably "Jr." or "Sr." Chef.

Chef d'équipe: 
Chef de Partie is the least used of all Chef titles. It is synonymous with Line Chef or Station Chef. It's just a fancy way of calling "line cook."
There are numerous other variations available. Simply put, you can find another title by adding "Chef" to any kitchen niche. Pastry Chefs, Fry Chef, Butcher Chef, and Grill Chef are the most common.
With all the different " Chef " types defined above, distinguishing between a Chef and a Kitchen Manager becomes more difficult. A Head Chef is similar to a Kitchen Manager in general, so these are the two most commonly compared roles.

A Chef is a glorified Kitchen Manager. They have all of the same responsibilities as a Kitchen manager, but they also manage the menu. Menu management takes a lot of time. After the initial menu is created, the most important part of menu management is designing specials and new menu items while ensuring the current menu's integrity. When new chefs enter the Kitchen, they often create an entirely new menu. When developing an initial menu (or a new menu), factoring in costs to ensure profitability becomes an important part of the process, which can be time-consuming.

Adding menu management to the Kitchen Manager's responsibilities makes it appear as if the Chef has a lot more on their plate. Still, a Chef will often have others involved in some administrative functions, such as hiring and scheduling, to make all the time balance out. Going to a reputable Culinary School for training is the best way to become a Chef. There are many Chefs who have gotten the job without any formal education, but if you want to excel as a Chef and have a deep understanding of food science, a culinary school is the best option. Swiss academy offers courses that can assist you in achieving your goal and setting foot into the culinary industry. SIT30821 Certificate III in Commercial Cookery will teach you the skills you need to be a professional cook. You can learn kitchen management from SIT40521 Certificate IV in Kitchen Management. Visit our website to learn more and talk to our expert consultants.